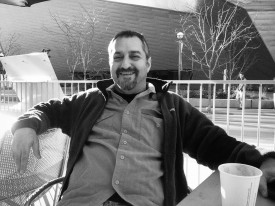 Toby Jurovics is the Joslyn Art Museum's Chief Curator and Holland Curator of American Western Art. An expert in nineteenth and twentieth century American landscape photography, he has organized over fifty exhibitions and is the author of Framing the West: The Survey Photographs of Timothy H. O'Sullivan, which accompanied the first major retrospective of the photographer's work in almost three decades. Jurovics has also been a curator of photography at the Smithsonian American Art Museum and the Princeton University Art Museum.  
Toby Jurovics was kind enough to share his thoughts on collecting photography while on a trip to Denver. I joined Toby outside the Denver Art Museum where we had a cup of coffee and talked collecting, developing photographic careers, and photography in general.
Q: What advise do you give photo collectors interested in starting a collection?
Jurovics: I usually start with two pieces of advice. First, do your research. The more you know about artists and the market, the more intelligent your purchases will be. The internet is helpful, but books and exhibition catalogues are a better place to start. You may want to look into a particular period or movement, a specific artist, or just find a good general history to give you a foundation. Doing the research may sound tedious, but it will make you a better collector. 
The second thing I advocate is to think about collecting thematically. Your choice might be a particular photographer and their circle, or a genre such as seascapes or environmental portraiture, or a particular period, like social documentary photographs of the 1960s and 1970s. but when making a new acquisition, ask yourself if you are simply adding to the number of prints you own, or building a coherent collection. Do the photographs in your collection talk to each other, and do they seem to create some kind of dialogue as a group? A collection that reflects some insight is ultimately more valuable and interesting than a random group of photographs.
Q: What if the collector doesn't have the budget for an Edward Weston, how does an amateur collector determine if an emerging photographer's work is worth collecting?
Jurovics:  Well, most of us don't have the pocket change for a Weston, so that solves one problem. But this is a tough question. We are in the middle of a shift in the medium that is as challenging as we have seen in a century. With the advent of digital printing and image processing – and the sheer number of images being made – there is more risk. You have to develop a sense of history and your own eye to help determine what might be of lasting value. A good place to start is always the gallery or dealer that represents an artist you are interested in considering. They should be able to answer those questions for you; if they can't give you a good answer, think twice about your purchase.
Q: What if the photographer is not represented by a gallery?
Jurovics: Have a look at their resume – have they shown at good museums? Is their work in any notable public or private collections? Has the artist received any major awards such as a Guggenheim? These are all good indicators of the value of the work. I also think that it is just fine to buy a photograph that you simply love. If you feel the price is reasonable why not purchase it? I collect some myself, and I have work from artists with international reputations, friends, and some photos that I just happen to like but might not ever find their way into a museum collection. 
Q: You mentioned a "reasonable price," but how does the collector determine what is reasonable?
Jurovics: For established artists there is plenty of published data. A good online source is www.artnet.com, which tracks auction prices on the secondary (resale) market, although keep in mind that there is always a difference between an auction price and a gallery price. Is it a vintage print, typically considered to be made within 5 or 10 years of the negative date? How many prints were made, and do you know the edition size? Is it a silver gelatin print? Is it an inkjet print that was made decades later than the original negative? All of these factors influence price.
Q: Do you ever buy work by emerging artists/photographers?
Jurovics: Absolutely. On several occasions, I have purchased work by photographers right out of graduate school or still completing an MFA program. If I see work that shows a knowledge of the medium, that fits into an important historical perspective while saying something unique or compelling, then I have no hesitation to acquire work by an emerging artist.  
Q: Are portfolio reviews a good way for photographers to break into the rarefied world of fine art photography?
Jurovics: Portfolio reviews are a good way to get your work seen, but I have very mixed feelings about the "for-profit" review world – organizations that are charging artists to have people look at their work. I have participated in a number of portfolio reviews for the Society for Photographic Education and other groups, and have included work I have first encountered there in exhibitions or made acquisitions. For students, I would recommend attending as many of the SPE events as you can, and shy away from portfolio reviews that charge large fees. I think it's a curator's duty to attend reviews and nurture new talent – portfolio reviews shouldn't be a moneymaker for the entity hosting them.
Q: Final question, we just walked through the Robert Adams exhibition at the Denver Art Museum. Is there a lesson that the collector of photography or the aspiring fine art photographer can take away from Adams' work?
Jurovics:  Well, Adams' photographs are everything photography isn't these days: small, intimate, and black and white. They are also elegant, lyrical, informed, and most importantly, passionate. It is impossible to come away from that exhibition and without knowing what he loves, what breaks his heart, and why he makes photographs. I fear it is part of a visual language that will be lost over the coming decades, so I suppose what I would say is turn off your computer and your phone for an hour and pick up one of his books – it's as good a place to start as any. 
Note: I interviewed Toby Jurovics in 2012 with the intention of posting it on another site. That posting never materialized, and this information is too useful to leave unpublished.